Successful SIPPO partners participation in Biofach eSpecial 2021
The limitations of the Corona pandemic mean that international trade fairs are being organised in new ways, and therefore SIPPO supports its partner BSOs to gain an understanding of how to approach such new fairs, and of the tools used at such virtual fairs. How can a BSO successfully participate, and how can contacts be created and managed at a distance?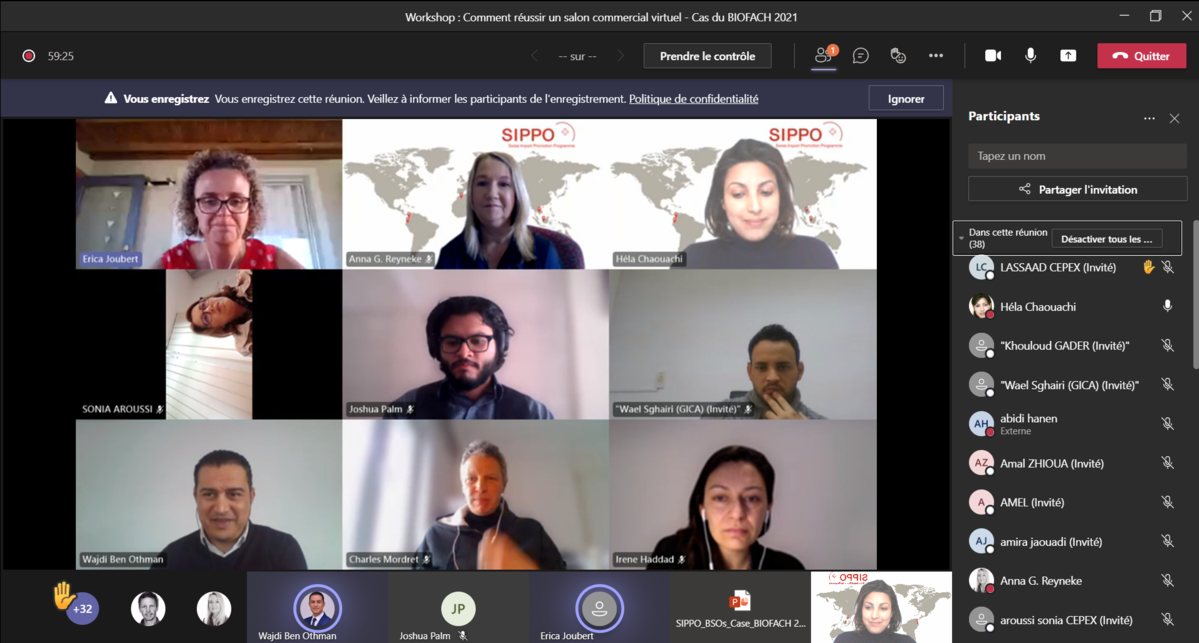 The SIPPO programme in Tunisia therefore held an online workshop on 18 March 2021 on the topic of
"Best practices to organize a successful participation in virtual trade fairs -
Case of Biofach 2021".
The SIPPO programme support to 3 partner countries was very valuable in the 1st eSpecial edition of Biofach. This was the largest international trade promotion event held 100% digitally since the start of the pandemic. In order to summarise the experiences and to draw lessons from this participation, SIPPO Tunisia organised this workshop to strengthen the capacity of partner institutions on the skills a BSO must have to participate in a virtual fair. The role of the BSO in supporting exporters, the functionalities of the platform and how to master the necessary tools were discussed.
To enrich the workshop and to promote the networking among SIPPO partners from different countries, SIPPO Tunisia invited BSO representatives from WESGRO-South Africa. This resulted in an excellent exchange with Tunisian BSOs about their experiences in supporting businesses during this digital edition of Biofach 2021 and to share knowledge on how to get the most out of a participation as a BSO.
The Tunisian BSOs showed great interest in this workshop, which provided an opportunity to strengthen their skills on this topic. About 40 participants were present from APIA, CCIT, CEPEX, GICA and GIPP. The workshop provided an opportunity to network with the WESGRO team and was rich in exchanges and interaction between the SIPPO programme partners.